4.8.06 – Raul Midon
I think my indie sensibilities are failing me. I used to love a jangly, noisy guitar and some floppy haired trendy murmuring a lyric or two. I still do love it, to be honest, but my musical tastes are starting to spread with age…not a bad thing I hasten to add.
What I also love is witnessing a musical moment. It's hard to explain to non-music-lovers what I mean, but basically it's being at a gig where the talent on display is so supreme you can see the artist's star begin it's path in the ascendant. I haven't witnessed a 'moment' this calendar year, yet I'm sure
Raul Midon
can change all that.
I tuned into
Later…
some weeks ago and saw Raul Midon quite by accident. He was performing a song called 'State of Mind' and I've never seen someone playing slap-guitar the way he does. On top of his unique R&B/Flamenco playing style, he has a rich, soulful voice and he mimics trumpet solos to cap it all off. Subsequently, I got his
album
(also titled 'State of Mind') and have found his simple musical and vocal arrangements to make for perfect, easy Summer listening.
Reviews
of his performances have led me to believe that he is also a sensation on stage, and I'm determined to go see him and witness that long sought-after 'moment'.
4.8.06 – Things I've Seen
Ok, ok…I know it's been three months since my last blog update. Y'know, it's weird, you start off with such good intentions…a bucket of original ideas and a piping-hot spring of wit to draw fresh blog-water from, and yet my well dried up. I blame the weather!
Well, the last 3 months hasn't been without incident – work's been busy, I'm with a new band, I'm soon to be moving house, and I'm sure all of these things will be mentioned soon. But there have been one or two things I've seen recently that have made me chuckle, and at long last I've got the photos off my phone and on here!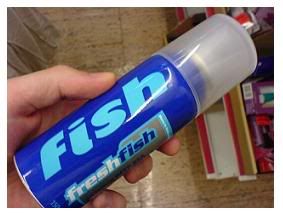 Firstly, on a recent sandwich-run to Boots, my eyes scanned the reduced shelf, and I saw this can of deodorant. Should this have been in the local pet-shop instead I wonder…a pheromone spray for cats perhaps?
It actually makes me think of the Jimmy Carr joke: "My mate recently split up with his girlfriend. I tried to console him…I told him 'There's plenty more fish in the sea'. He said 'Yeah, But it's not just the smell I'll miss' "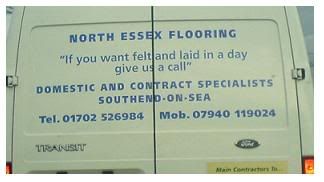 Secondly, I found myself behind a flooring company van on my way to work one morning…and the slogan adorning it made me chuckle so I was pleased when we hit traffic and I was able to get a picture. Apparently, this slogan isn't original, but it was the first time I'd seen it, and it made me smile!